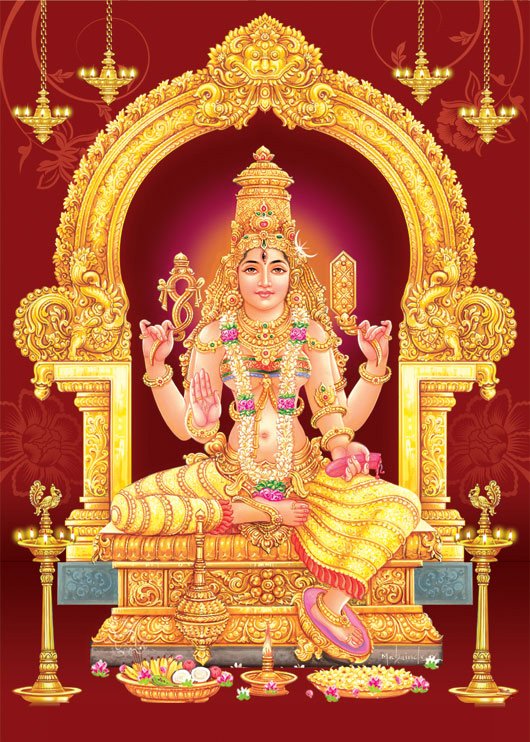 Sree Bagalamukhi Devi temple is rarely found in India. Sre Suryamangalam Thaantric Vidhyaa Peetam took a decision to build a temple for Sree Bagalamukhi Devi for the first time in South India at Kallidaikurichi, Papankulam village in Thirunelveli district in Tamilnadu. His Holiness Sri Kanchi Kamakoti Peetathipathi Jagadguru Poojyasri Sri Sri Jayendrasaraswathi Sankaracharya Swamiji blessed and laid the foundation stone for the construction work of the temple on 4 th june 2011.
Located at Virugambakkam in Chennai, Sre Suryamangalam Thaantric Vidhyaa Peetam is doing dedicated service for the past twenty five years to the devotees by Astrological predictions, remedial measures(Parihara Pooja),Thaanthric pooja and Homam,Veda Mantra Yaaga etc for the purpose of getting rid of the hardships and achieving goals. The Bagalamukhi Yaagaagni taken from Arani is kept intact here for the past eighteen years and the chanting of Sri Bagalamukhi Mantra Aahuthi has crossed over one crore.
Taking into account the in-depth knowledge of Hindu Veda Sastra, Astrology,Thantra sastra, acquired by Sre Suryamangalam Thaanthric Vidhyaa Peetathipathi Sri Guruvayur Suryan Namboothiry swamiji had been conferred on the title 'Rajaguru' and 'Aasthaana Vidwan' by Sri Sri Kanchi Kamakoti peetam on 18 th May 2006.
As per the direction of Sri Mahadevi in Deva Prashnam and also with the blessings of Sri Kanchi Kamakoti Peetam, Sre Suryamangalam Thaantric Vidhyaa Peetam has decided to build a Maha Temple with Raja Gopuram for Sree Bagalamukhi Devi in Kallidaikurichi, Papankulam village. Separate sanctum sanctorum(Garbha Gruha) will be built for the main deity Sree Bagalamukhi Devi and sub deities viz..
Sri Uchchishta Ganapathy
Sri Umamaheshwaran
Sri Prathyangira Devi
Navagraha and Naga Devatha
for the purpose of consecration and worship.
With a view to outlive the natural calamities and hardships of any bad phase in Kaliyuga and to last for many a century with out wear and tear, the sanctum sanctorums and outer halls (Mukhamandapam) are to be built by rock stone and as such it is estimated that the expenditure for this utilitarian work will be over rupees six crore. All devotees are solicited for extending their cooperation and valuable suggestions and liberal financial contribution to complete the construction work of the temple inclusive of consecration and Kumbhabhishekam without any delay.
Sre Suryamangalam Thaantric Vidhyaa Peetam Trust, Kallidaikurichi.
For Further Details Please Contact : 044 - 2479 1008, 04634 - 293375, +91-98410 47471, +91 97102 34343